(HATCHING EGGS WILL ONLY BE SOLD AT MY DISCRETION IN 2021. If you have not hatched shipped eggs before, or have a history of complaining about your poor hatch rates with shipped eggs on ANY social media platform then please move on...nothing to see here! ...........

CALL FOR DETAILS 760-990-3862 (text) or leave voice message 208-628-2772)

I RESERVE THE RIGHT TO REFUSE SALES OF CHICKS OR EGGS TO ANYONE I DEEM NOT INTENT ON PRESERVING THE BREEDS

DUE TO THE COVID PROTOCAL SLOWING the usps EXPRESS SHIPPING DOWN TO 4 DAYS SHIPPING CHICKS WILL NOT BE OFFERED THIS YEAR.

I PERSONALLY WILL BE suspending hatching sale chicks april 1, 2021

***** CHICK PRICES ARE SUBJECT TO CHANGE AND ARE BASED UPON AGE AND SEX AT TIME OF PICK UP *****
Shipping Eggs & Chicks
We ship all eggs USPS Priority Mail, insured and double boxed. The insurance is for lost shipment or damage to the box resulting in damage to the eggs inside. There are NO GUARANTEES on fertility or hatchability once eggs leave my hands. HATCH AT YOUR OWN RISK
Shipping in foam blocks

- 6 to 12 eggs
Foam Block

- Holds 6 eggs each

$5 each
chick box

12 x 10 x 6

$10
Horizon single bird box

18 x 8 x 20

$15
Horizon large bird box

16 x 16 x 16

$15
Horizon OMNI box

24 x 18 x 16

$40
Heat Pack -
$3 each
Chick Bedding -
$5 each
Ice Pack

- for Eggs being shipped during high heat.

$3 each
USPS EXPRESS 2-3 DAY Fee

- Chicks

shipping live animals is weight, box dimensions and destination based. Day old chicks run anywhere from $55 to $75 depending on box size, combined weight of chicks and box plus destination zip code. From Riggins Idaho it's always AT LEAST a 2-3 day trip. I include boiled egg, growgel and chick feed even with day old chicks. When ordering shipped day old chicks a minimum of 6 chicks + 1 heat pack is required.
picked up here

- Paid in advance of collecting

Eggs and chicks can be ordered and pickup up at the ranch after collecting or hatching but all orders must be paid in full in advance of collecting or hatching eggs.
Packing in Foam
Click on the images below to view larger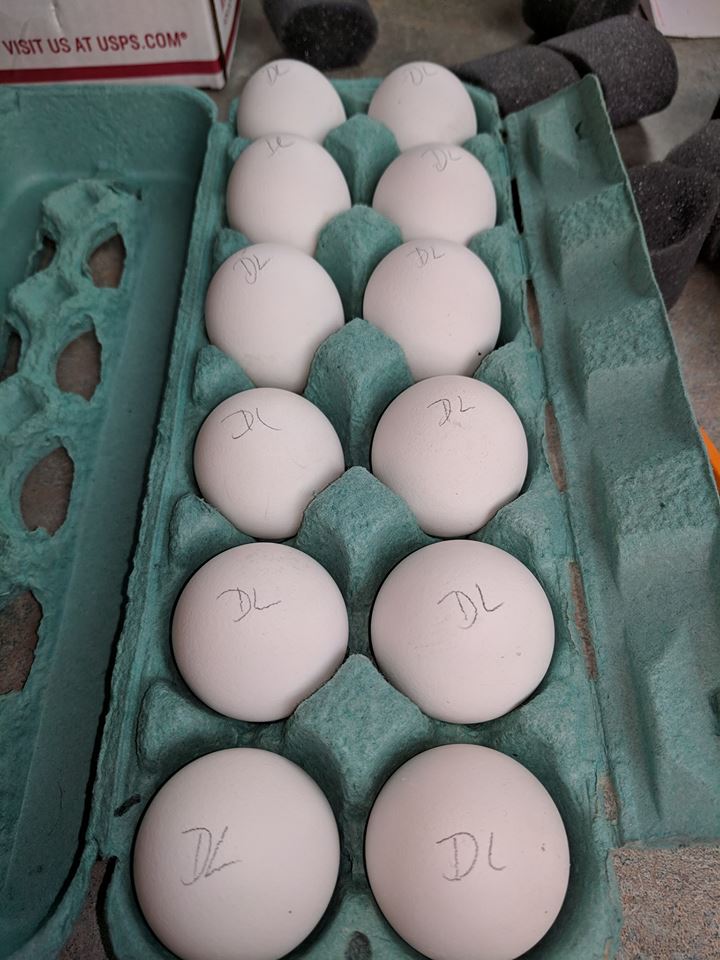 Eggs are collected two to three times a day and stored in a cool dark cabinet. The eggs are rotated twice a day to help keep the yolk centered. Only the freshest collected eggs (no more than 4 days old) will be sent to the buyer. Older eggs are incubated here.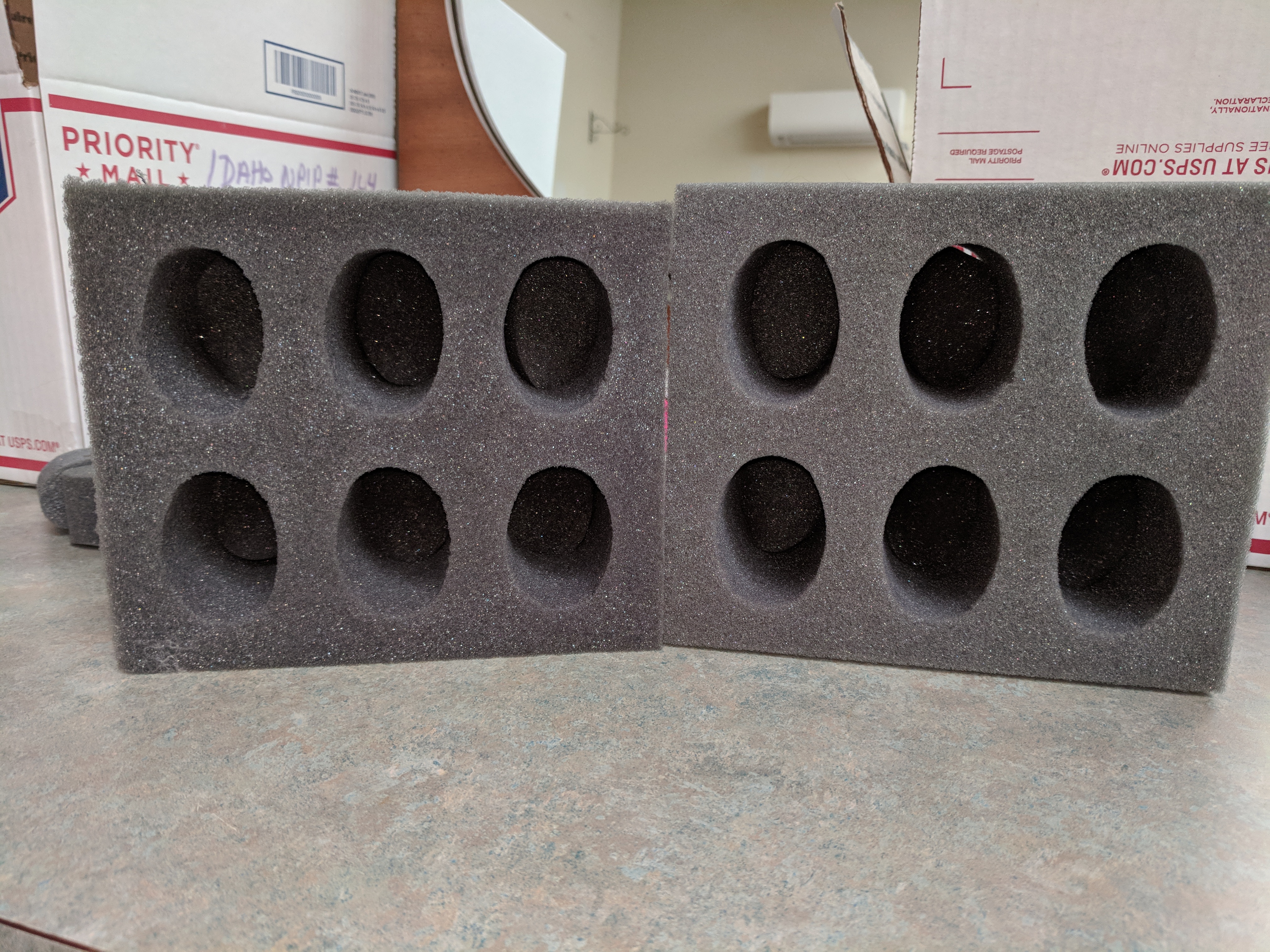 Empty foam shipping block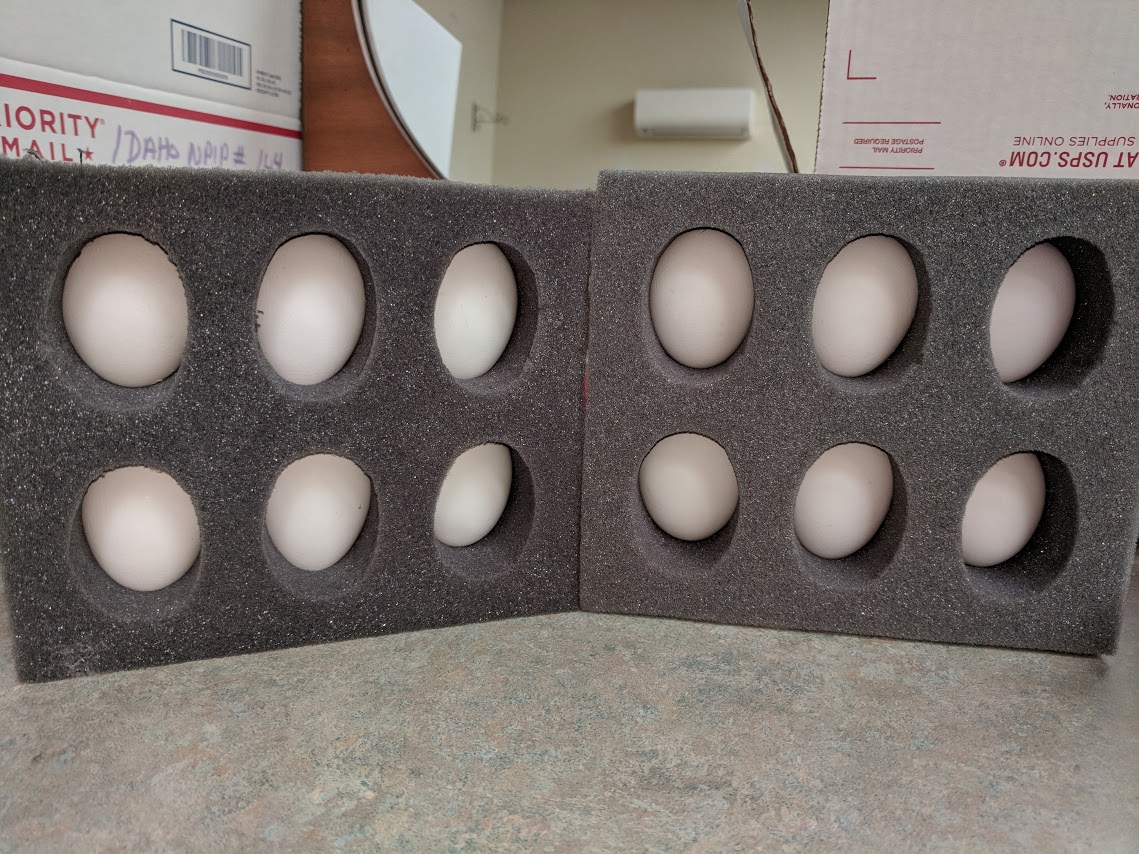 eggs firmly tucked into the foam blocks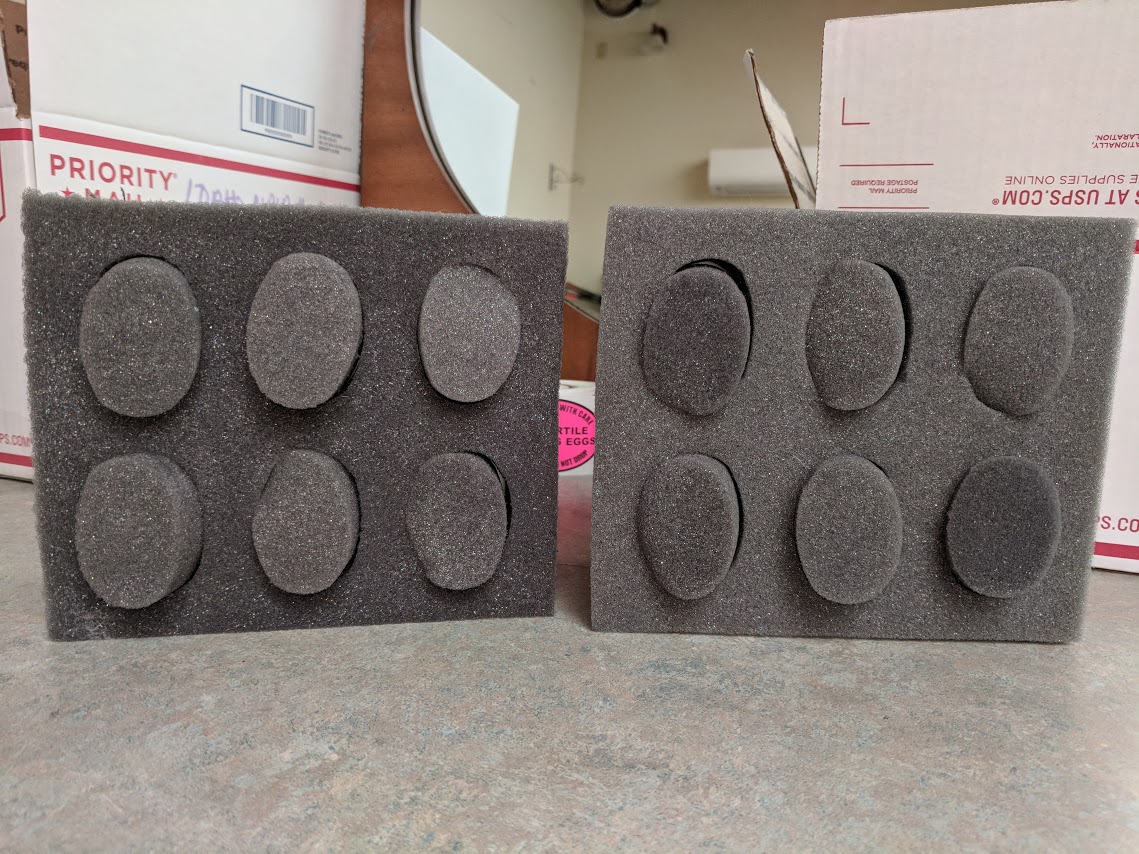 protective foam caps are placed on both sides of the eggs to give them a completely secure foam padding.
9 x 9 USPS Priority mail shipping box with foam blocks inside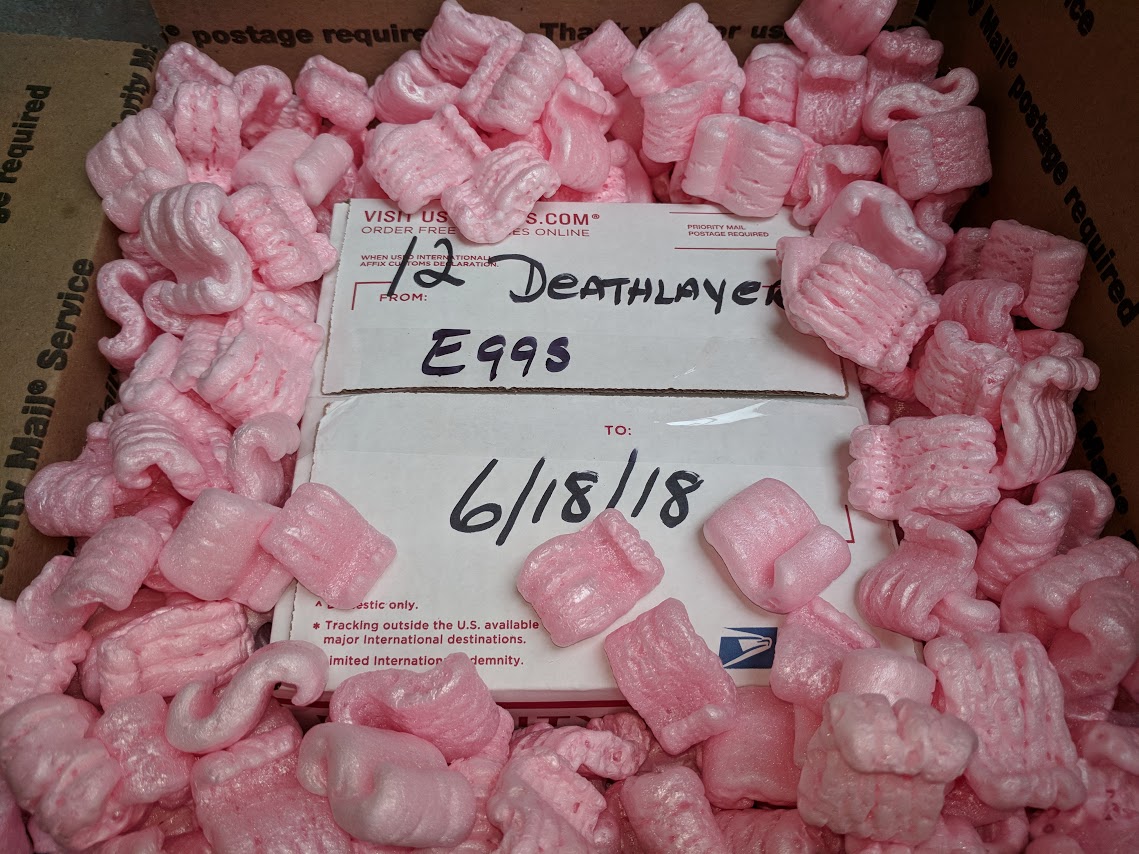 9 x 9 shipping box is placed inside the larger 12 x 12 USPS Priority mail shipping box with peanut packing material tucked all around to help center the smaller box and provide a much needed "crush zone"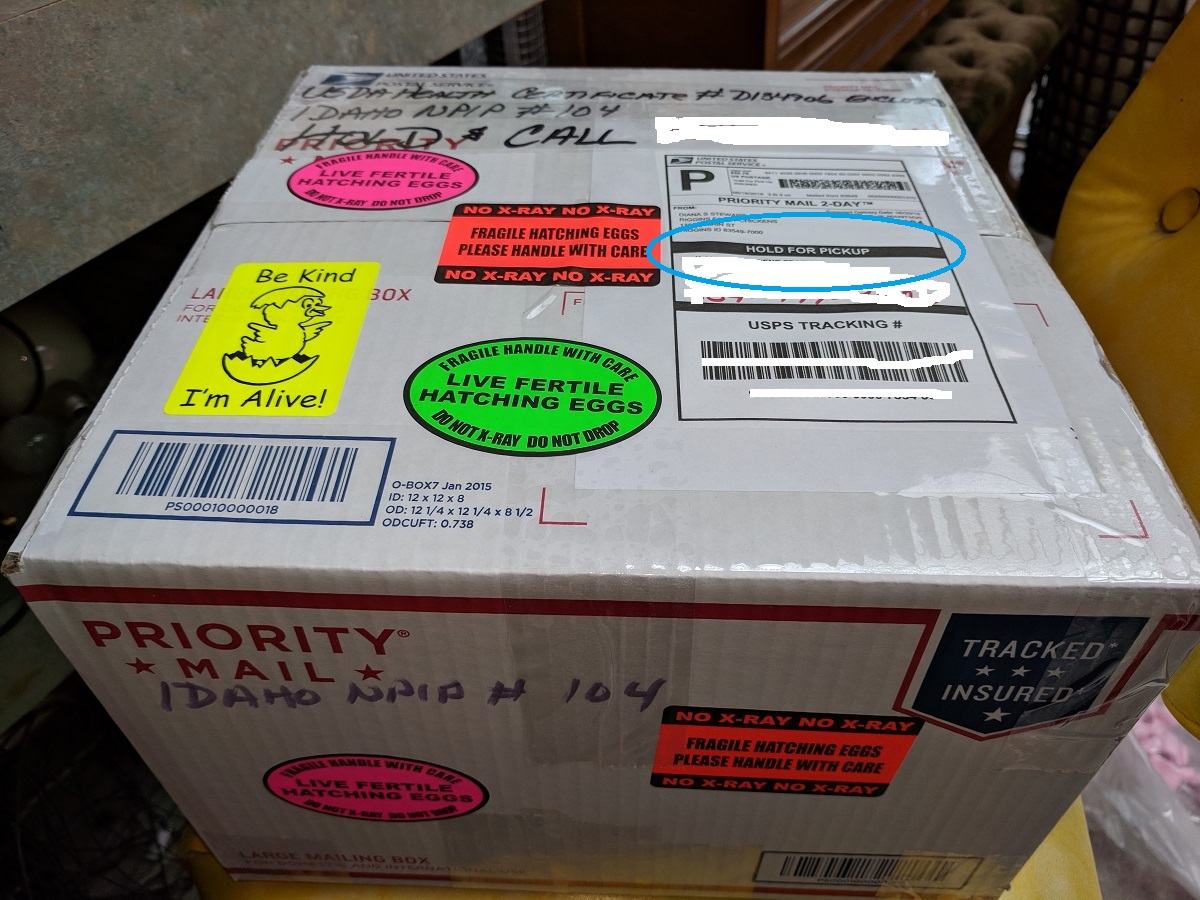 shipping information and NPIP number are on the outside of the box along with fragile, caution, do not x-ray, hatching eggs stickers are placed on the top and on all the sides. NPIP paperwork and receipt are inside the shipping box.